Recruiting Area
The Recruiting Area is located in Hall B5.
The highlight on the expo Friday – many of the exhibitors will present themselves as employers in the Recruiting Area. Skilled specialists will have an opportunity on Friday 30 September, alongside the normal expo and meeting activities, to meet up with human resource managers and find out about further education opportunities. Interested?
You can look forward to stimulating talks, useful insights and specific job opportunities.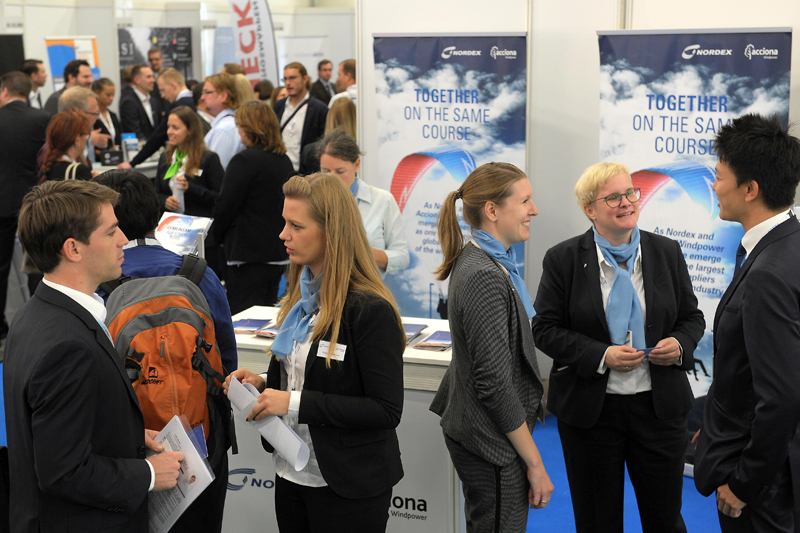 Job Route
Furthermore exhibitors in all halls inform visitors about career opportunities in their company. The stands of the participants and their entry in the exhibitor directory will be highlighted.
Cooperation partners greenjobs.de and eejobs.de
Free job ad für all exhibitors - internships, practical trainings, working students etc. can be published without a charge
Our job boards greenjobs.de und eejobs.de bring together jobseekers and companies/organizations with a focus on a wide range of green jobs, especially on the energy transition. We reach more than 130.000 users each month, making our job portals leading in this field. Your job ads are being published both on www.greenjobs.de and www.eejobs.de (all jobs related to f.e. renewables, energy efficiency or climate research are published withoout any extra charge on both portals), on some additional pages of our partners (f.e. associations), via Twitter and with our Job-Newsletter without over 12.000 subscribers.
We offer all exhibitors and partners of the Wind Energy Hamburg 2022 one free trial job ad (self-service, value 98,- €, in case of a non-German-speaking HR/company please get back to us and we can as well offer you a free full-service ad), which can be used until the 31.12.2022. To make use of this offer please fill out "Free Trial WindEnergy 2022" in the field "Hier können Sie einen Aktions-Code eingeben". This discount can not be combined with other discounts.
By the way: you can always publish your internship positions, practical trainings, working students etc. without any charge (self-service) on our job boards