#climatefirst
It's Time To Put Climate First: WindEnergy Hamburg and H2EXPO & CONFERENCE lend powerful impetus to the expansion of renewable energy
WindEnergy Hamburg 2022 ended on Friday, 30 Sept 2022 with the entire wind energy and hydrogen industry signalling a strong sense of optimism and anticipation. On Hamburg's exhibition campus more than 1,400 international exhibitors showcased the full range of innovations and solutions the onshore and offshore wind industry has to offer. The idea to bring together all the key players from the renewable energy sector at WindEnergy Hamburg and the H2EXPO & CONFERENCE was welcomed enthusiastically by industry visitors, exhibiting companies and expert organisations alike. The comprehensive conference programme was right on target in meeting the information need in the market, receiving excellent comments.

1,400+ exhibiting companies
from 37 countries (60% Onshore, 40% Offshore)
71,500 m²
exhibition space in 10 halls
37,000 total attendees
from 93 countries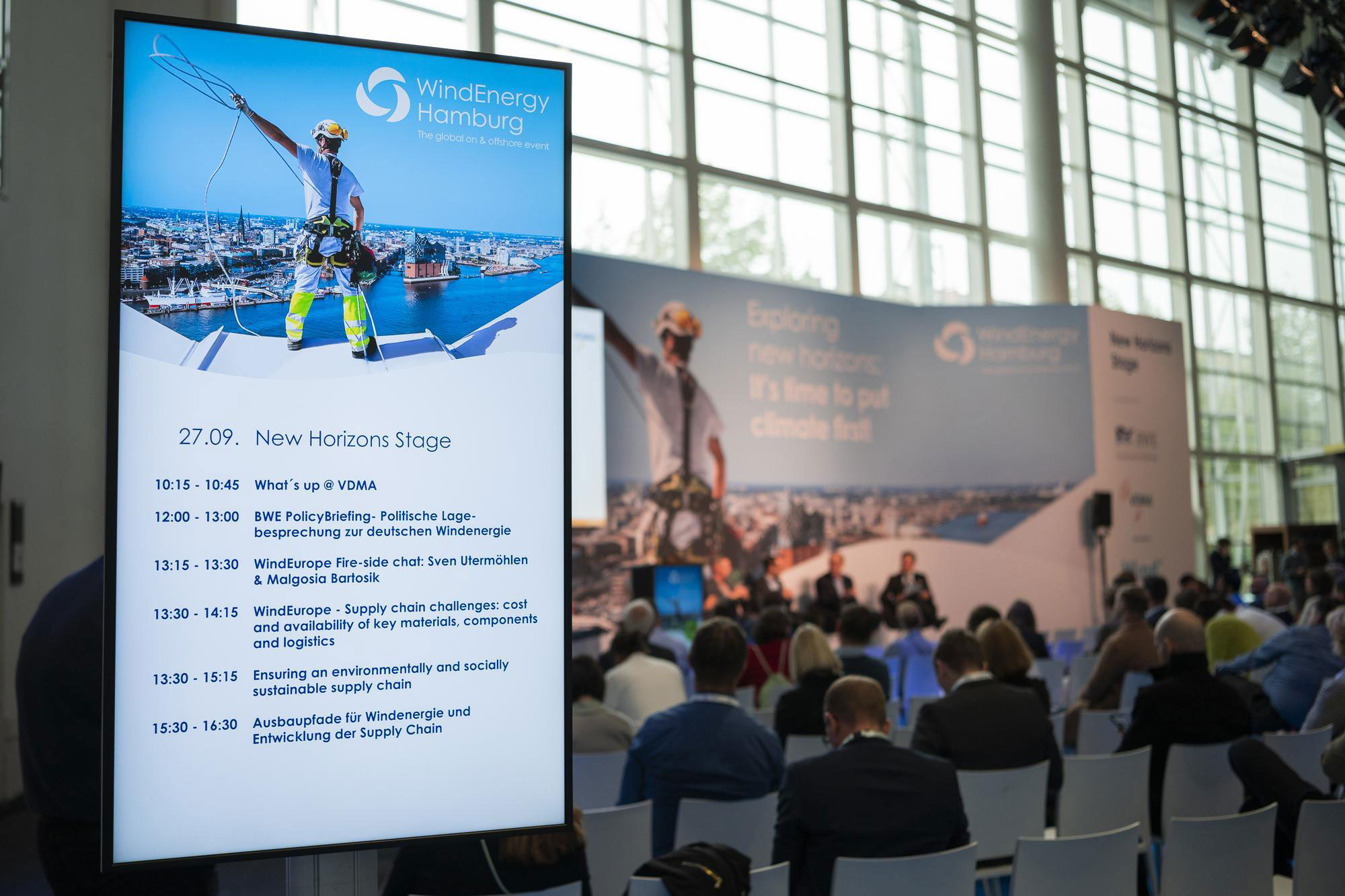 Relive the stage programmes
In case you were unable to attend WindEnergy Hamburg 2022, or were too busy at the fair to enjoy all parts of the programme you were interested in, here's what you can do: We have recorded all the on-stage conferences, speeches and presentations as well as the official opening ceremony for you! So feel free to watch the programme on demand now – and have fun!
WindEnergy Hamburg @ LinkedIn
The latest news about WindEnergy Hamburg and the wind industry can also be found on our LinkedIn page.
The colourful Hanseatic city lives from its contrasts. A metropolis on the water, which provides exciting variety and inspiration at any time of the day or night. This applies to the culinary diversity and countless gastronomic establishments as well as to exciting hotel and accommodation concepts.
Date
WindEnergy Hamburg
The global on & offshore event
Opening hours
Tue. - Thu. 10.00 AM - 6.00 PM
Fri. 10.00 AM - 4.00 PM
Halls
B-halls (Halls B1 - B7)
Hall A1, A3 & A4
Entrances
Central entrance (Messeplatz)
East Entrance (Bei den Kirchhöfen/St. Petersburger Straße)
South Entrance (Karolinenstr., Hall B6)
West Entrance (Lagerstr. / Hall A3)